A Family of Faith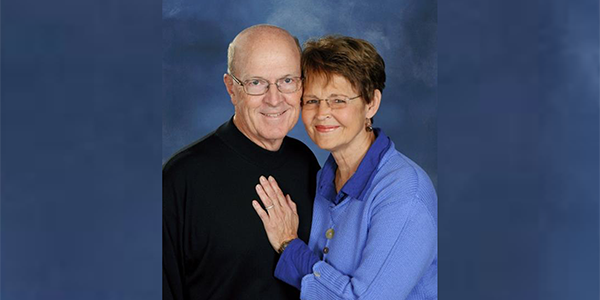 Married in Atlanta in 1967, Ann and Zeno were both from the South. Ann was raised in Chattanooga, TN and Zeno in a rural community east of Raleigh, NC. They moved to Birmingham in 1974 for "just a couple of years" as Zeno was to become familiar with the textile business in the automotive industry. They visited Birmingham First one Sunday and joined shortly after. "It just felt like the place we should be." Forty-five years later they're still here.
Fresh out of college with a merchandising degree with a minor in art, Ann joined some of her college friends on a cruise to Nassau. Zeno was still in college with a group of fraternity brothers from NC State who had signed up for the same cruise. "A Brother said it was a last-minute deal for $70 so I went."
They met that first night, and the rest is history. After their marriage in 1967, Zeno completed his last year of college at NC State and made the Dean's list twice. Ann asked why he hadn't been on the Dean's list before they were married. Zeno confessed that prior to Ann in his life, he would start looking for a date on Tuesday before every weekend. Since knowing Ann, he had much more time to study before the weekends.
Ann was an only child and wanted to have five children! "I guess it wasn't meant to be." Their first and only child, Zeno Windley III, joined the family in 1968. He and his wife, Rebecca, now live in Beverly Hills with their 15-year-old daughter, Lily, and are active members of Birmingham First.
Rev. Dr. Bill Ritter asked Ann in 1999 to "fill in" on staff for a short period. That "fill in" turned into a career as the first Director of Membership until she retired in 2008. Ann has been active on many committees and was a chair of the Rummage Sale in the 80's. She was also Missions Ministry co-chair and has been on mission trips to Costa Rica and Prague. Ann is now a volunteer at Art & Soul, a mission ministry for the homeless in Detroit.
Zeno's "couple of years in Michigan" culminated in his retirement in 2012 from Morris Associates where he was President for 30 years. He chaired the Fellowship Hall renovation and currently chairs the Stewardship Committee.
Their planned gift to the endowment expresses their commitment to the future of Birmingham First. "We feel this church has given us a family of faith" says Ann. "We hope to help provide the same experience for the next generation. We feel so blessed to be a part of this church family."