Paul & Jackie Keller: Family Legacies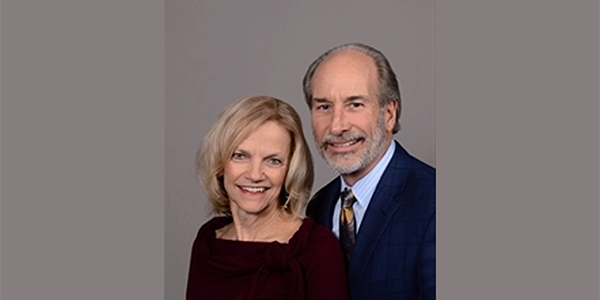 The Kellers agree, "we think 'legacy' may be a little overused, but we really do feel a part of a family legacy of faith that began with our parents and continues with our children and granddaughters." Going to church and being involved started at an early age. Jackie remembers, "It's just what we did so that my church, wherever I've lived, has always been a part of my family." Strangers growing up only an hour away from each other in rural Ohio, Paul and Jackie were set up on a blind date their first week as freshmen at the University of Cincinnati. "It was one of many of those 'God moments' in our lives," reflecting back on history.
In college Paul played basketball one year for the bearcats, but his most memorable times on the court came later as he and Jackie were cheerleader partners. Even with the rigorous studies of Paul's major in civil and environmental engineering and Jackie's pursuit of a special education teaching career, they found time to be involved in Greek life and began their lifelong role as leaders in service to their brothers and sisters in their fraternity and sorority.
They were married after Jackie's graduation during Paul's fifth year of engineering co-op responsibilities, which was when Paul decided instead of being an engineer, he would try law school. Paul recalls, "While attending law school at the U of M (go blue!) everybody assumed I'd become a patent lawyer with my engineering background, but that didn't interest me. When it came time to get some experience, I looked around at law firms within commuting distance of Ann Arbor because Jackie was working. Unknowingly I applied to clerk at Harness, Dickey, & Pierce who specialized in intellectual property and I fell in love with it." That was another God moment, as Paul still loves his work as a Senior Partner with the firm.
The legacy of faith, grounded in their parents' example, continued as they attended the Methodist church in Beverly Hills for 20 years while raising their children. Jackie acknowledged "much of our social life was centered around the church as we sang in the choir and, over the years, probably served on just about every committee possible. But it was when our second child was born premature that we experienced God's love through our church friends in a profoundly deeper way." Jordon lived a brief life of only 18 days, and it was then that Paul said he learned how to pray "thy will be done." It was the love and support of their church friends that carried them through the valley of the shadow of death and grief.
God blessed them with two more children during the years at Beverly Hills, and when they were planning a trip for their 15th wedding anniversary Jackie panicked "we don't have a will!" That prompted them to complete their first estate plan, and Paul said that leaving a gift to the church just seemed natural – "they are part of our family."
With declining membership in their home church, their teens started attending the youth group at First. Paul and Jackie kept a foot in each church door for a while, until the time was right to make the change to join First Birmingham. Their legacy of faith and leadership service continues at First. Jackie finds her passion in Women's ministries and the Advent by Candlelight series. Paul has provided leadership for Missions and our Endowment Board.
Paul smiled when he remembered, "Our first involvement at First was a youth mission trip and now I chair the entire missions committee. "Another God moment. Paul described his life now as sort of reaching the top of a hill with a view of the horizon: "During your career building you keep your head down, work hard and save, and that's just what you do. We're now at the point where we can take a deep breath, look around, and see things from a different perspective. Whether it's mortality, no that's probably overstated, or simply a view of the horizon, it makes us think more intentionally about all we have and how much we want to give back."
Giving back has been a way of life, but one special occasion prompted Paul to be a little more creative. He enlisted his siblings to pool together a gift to their home church in honor of his parent's 50th wedding anniversary to create a college scholarship for members of their church. "It's a small community with humble means, so we wanted to help the young people growing up in our church consider college with this incentive. I think there have been over 20 recipients, and each year they taken a picture of the recipient with my parents."
As proud grandparents, who are blessed to see their granddaughters each week at FUMC, Jackie and Paul are again revising the estate plan. "We no longer need guardians for the kids, and as our financial blessings have grown and our children become more established, we know we will be sharing more with a gift to FUMC."