Celebrating Bob and Mary's Generosity!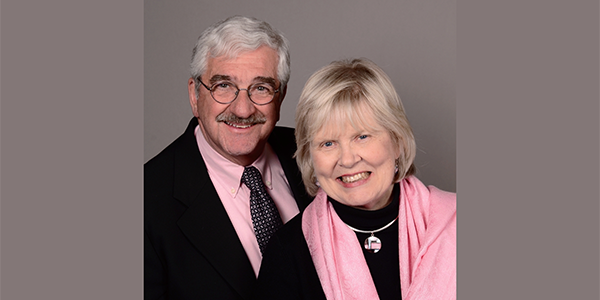 Bob and Mary Feldmaier met as college students through a student organization at Purdue University. After graduation, Bob's work as an engineer in the automotive industry drew them to our area. Bob arrived first and soon after informed Mary that he had found them a church. And indeed, he had! They have been members of Birmingham First for 47 years and this spring made a legacy commitment to a new named fund, the Bob and Mary (Jeffers) Feldmaier Endowment Fund.
Before they officially joined as members of our congregation, Bob started teaching sixth grade Sunday School. A year later, Bob and Mary became Youth Fellowship counselors. Mary, who began piano lessons at the age of 7 (she had a wonderful teacher), played both piano and organ at the church of her youth; she also played for high school musicals and entertainment at Purdue University functions. Her gifts for teaching and music were shared with our congregation as our Cherub and Sonshine Children's Choir Director for 25 years. She describes her service in that role as a "wonderful experience witnessing how music lights the world of children."
The purpose of the Bob and Mary (Jeffers) Feldmaier Fund is to support music education for children and youth, including providing financial support for music lessons and for participation in choir camps and trips. In planning this legacy gift, Bob and Mary shared that "God has been incredibly good to us, and we want to give back for these blessings. We would hope that with this legacy gift, students will feel God's presence and receive support to further their enrichment in music."
As active church members, Bob and Mary celebrate the legacy of which they have been recipients. There was a tremendous congregation, programs, and facilities here when they joined us in 1974. And they want to do what they can to provide a legacy – one that includes strong music and children's programs – for future generations. In addition to their legacy gift to Birmingham First, Bob and Mary's plans also include a legacy gift to the student organization at Purdue University where they first met. Fortunate that they can do both, Bob and Mary are a great example of generosity with a "both and" spirit.
The Endowment Board celebrates Bob and Mary's generosity, giving thanks to God not just for their legacy gift but for their ongoing commitment and service to our church. Bob currently chairs our Hunger Ministry and Mary serves on staff as our Director of Membership and Connecting Ministries. And, on most Sundays you will find one or both singing in the choir!