Blessed to be a Blessing: Mixie and Jeff Hockman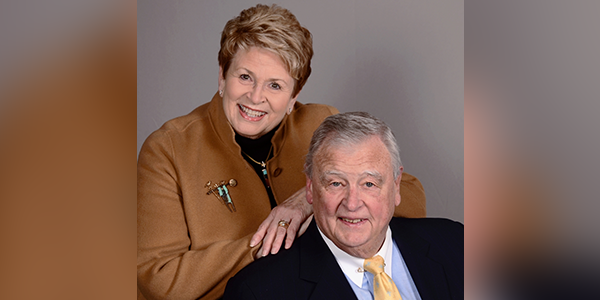 Jeff and Mixie Hockman celebrate the blessings in their lives and are committed to blessing others through their prayers, presence, witness, service, and gifts. Jeff and Mixie, who had been long time members of Beverly Hills United Methodist Church, transferred their membership to Birmingham First, following their family here, as their grandchildren attended our preschool. Within a month of officially joining Birmingham First, Mixie and Jeff were serving on committees, sharing their gifts of organization and leadership.
Mixie has a passion for missions. She was a member of the Missions Committee and chaired the committee in 2011 and 2012 (while also serving as president of our local YMCA board!). She also served on and co-chaired our StreeThreads mission for eight years. Mixie was one of the founders of the Desert Sisters retreat ministry; a ministry that lasted eleven years. She has served on the Faith Formation Committee, including as the chair for three years. Most recently, she has been a member of the Seminary Relations Committee and chaired that committee in 2022.
Jeff has been active as a member of our Board of Trustees, including chairing our Trustees during the Fellowship Hall renovation project. From 2014 to 2019, he served as chair of our Endowment Board. Currently Jeff serves as our congregation's treasurer (after having been assistant treasurer for a year) and is on our Finance Committee.
Jeff and Mixie's commitment to missions and service extend beyond formal leadership roles. As a member of various mission teams, Mixie traveled internationally to Ghana and domestically to God's Country Cooperative Parish. In 2012, Jeff and Mixie traveled together to Haiti; an experience they describe as one of the best things they have ever done together. The relationships Jeff and Mixie formed through travel with missions continued well beyond their return home as they provided funding support for the education of young people they met through their travels.
At The Ohio State University, one of Jeff's professors, a man by the name of Woody Hayes, stressed the importance of paying it forward. (Jeff has a degree from OSU and wears an annoying red sweater on certain fall football weekends.) He also has an MBA from Ohio University. Beyond leadership in our congregation, Jeff's commitment to community service includes serving as chairman of the Beaumont Foundation Board of Directors, the Board of Directors for Beaumont Health System, Chair of Oakland Housing Foundation, and Chairman of the Birmingham Shopping District. He has served as a City Commission Member and Mayor for the City of Birmingham. And he served on the Birmingham School Board for sixteen years, including five terms as president. Jeff has received numerous awards recognizing his incredible community leadership. Jeff and Mixie are the only couple who have been named First Citizen of The Year for Birmingham/Bloomfield, Jeff in 1997 and Mixie in 2001.
Jeff and Mixie believe passionately in the work of the church, the positive impact it makes on the broader community, and the critical need for the church to be present and visible in the community moving forward. Jeff and Mixie's commitment to pay it forward as Legacy Society members is grounded in their gratitude for the church's impact on their lives. They believe the church's support and outreach in future generations will be ever more important and they are committed to leaving a portion of their estate to support the work of the church. They give thanks for their blessings, they recognize they stand on the shoulders of past generations, and they are committed to leave a legacy that offers blessing for generations to come. They would like to leave you with this quote from Winston Churchill, "We make a living by what we get. We make a life by what we give." Thanks be to God!