Diana and Eric Freeburg: A Legacy of Love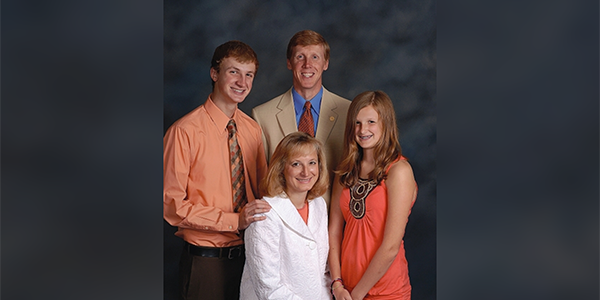 Diana and Eric Freeburg's story is a legacy of love of faith, family, and U of M! They first met at Michigan when Diana was selling carnations at the ATO fraternity to raise money for her ZTA sorority. As Eric spotted Diana across the room, he suggested to a brother he might want to buy a carnation and ask her to the upcoming dance. He was informed that she was dating someone else who had already bought her a carnation. Eric bought six. After the dance she resisted his suggestion that they go out again, describing him as "bizarre." But at the next dance she seems to have warmed up to Eric's unique personality. All evening he kept his distance until Diana approached him to ask, or more like demand, that he ask her to dance! Well, the dance goes on and their family legacy at the U of M continues as well with son Brian and daughter Erica both U of M graduates.
Although Diana grew up a Roman Catholic and Eric was Episcopalian, they found a home in the United Methodist Church while living in Northville, attending the Methodist church there. They moved to Birmingham in the new millennium and began attending Birmingham First. Both became active in ministries that involved Brian and Erica, including youth mission trips, Sunday school, and Scouting. In the process of their involvement, they became positive ambassadors for the church as they brought other family members to find a church home at Birmingham First. Their legacy of faith and family came together.
When asked why they have planned a gift to the Endowment, Diana mentioned the two main values that drive their giving. "Eric has always quoted Ben Franklin as he followed the philosophy of a life journey to 'Learn, Earn, Return.' For me, it's what I do – as a financial planner, I walk the talk. When I joined the Endowment Board six years ago, I felt it was a responsibility of my work on the board, so Eric and I joined the Legacy Society then." Diana said they also choose to support the Endowment with annual gifts in addition to their planned gift, because they feel the need to share the blessings which they have received.
Eric joined the Endowment Board in 2017 and Diana is now on the board at Cass Community Social Services. They continue to build a legacy of faith and service. Thanks be to God!