Tim and Laura Dickerson: A Legacy of Faith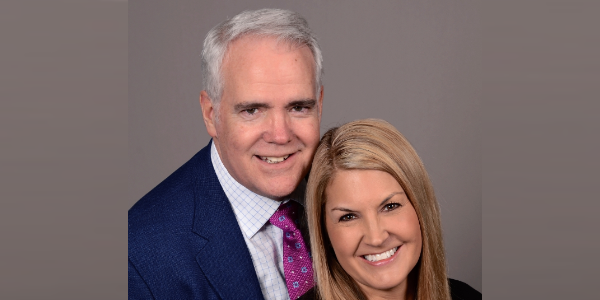 We are both so thankful for the amazing legacies of faith from our families…very different, yet very Christ centered. Tim's grandfather was a "fire and brimstone" Nazarene preacher, while Laura's grandfather received a PhD in the History of the Catholic Church. Born and raised in the Methodist church, Tim was blessed with loving parents that we shared a pew with at Birmingham First for many years before their passing earlier this year. Birmingham First, along with Pastor Charles, were extremely gracious to our family in walking alongside us during both of their funerals and celebrations of life. While coming from different backgrounds, we shared common ground in our love for one another and our love for Christ, and together we supported one another's faith journey.
Since joining the Birmingham church 25 years ago, God has built upon these foundations of faith and blessed us beyond anything we could have ever imagined. As new members, our "faith friends" invited us to join them in their small group. We had no idea that accepting this invitation would lead us to a small slice of heaven through the love of the Body of Christ. Our small group experience created the desire for us to learn and understand more about our faith and has been the cornerstone of a miraculous journey of Christian community. This small group of seven families provided a fun, trusting, and loving environment that truly defined the meaning of being brothers and sisters in Christ, and 25 years later, they are still some of our closest friends.
As our faith grew through fellowship, prayer, and studying God's word, our passion to serve grew as well. We started to say "yes" to God and embrace God's promises, and our desire to fulfill our promise to support the church with our prayers, presence, gifts, and service became a natural and rewarding experience. As we approach retirement, giving back has become an even greater purpose in our lives. A legacy gift to the church is a natural part of our planned giving and a continuation of our personal commitment to tithing. Our hope is that our gift will help the church to thrive and continue to grow God's kingdom.
Whether our prayers are around the family dinner table or in a small group of friends, we ask God to help us be more like His Son in all that we do, and that we too will pass on this legacy of faith to our children and grandchildren. Our prayer for the church…for you…is that you will also find and experience the "Body of Christ" as we have through this place and the people within it.
Thank you, First Church.
Tim and Laura Dickerson